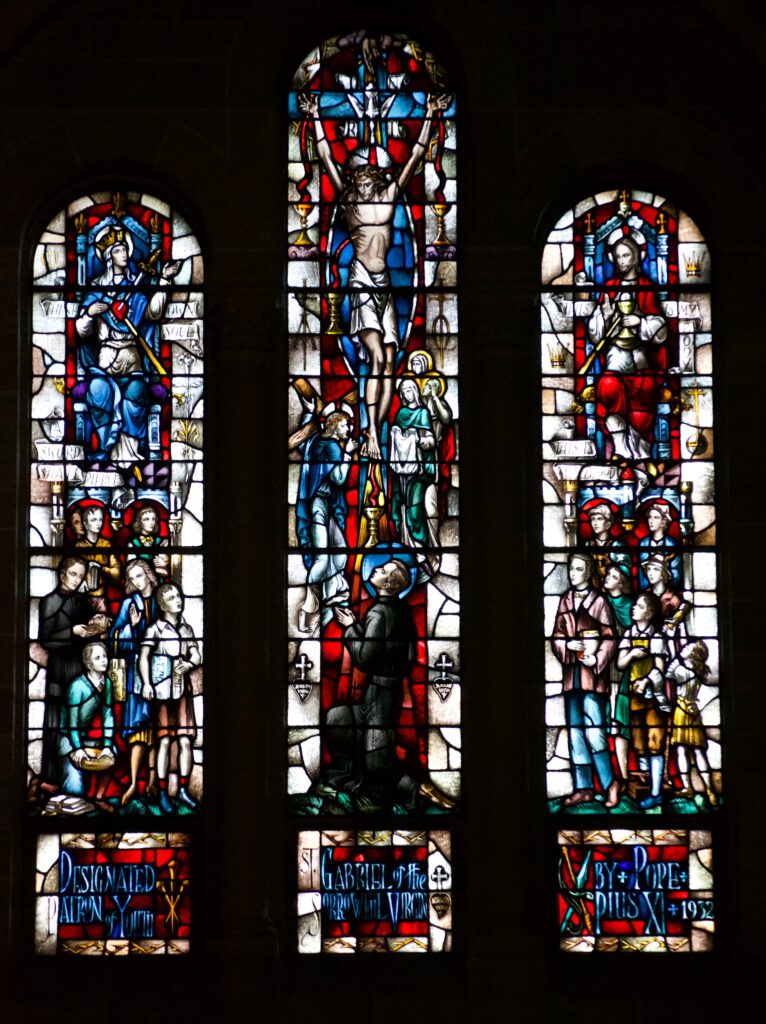 One of the side altars in St. Joseph's Monastery church is dedicated to the Passionist Saint Gabriel of the Sorrowful Virgin. His feast day is February 27 and this year falls during the first week of Lent. The window can help us reflect both on St. Gabriel and the Passion of Jesus, a fitting reflection for the beginning of Lent. Gabriel died very young at age 24, from tuberculosis. He was canonized the Patron Saint of Youth.
The most striking image in the window is Jesus nailed to the cross before which St. Gabriel kneels. The details in this image can aid our Lenten prayer and reflection. Look for the crown of thorns encircling also the Father and the Holy Spirit; the chalices collecting Jesus's precious blood; and the scenes from the Way of the Cross. Notice Mary, her heart pierced with a sword directing our attention toward her crucified Son. Notice the risen Jesus, holding the gift of Himself to us in the Eucharist.
And in the side panes below Jesus and Mary, notice the young people of all ages, carrying items for play, learning and prayer. They seem to be emerging from a structure, possibly symbolizing the Church, of which they are a part.
During this Lent may we reflect on the needs of children and young people throughout the world: for children living in refugee camps in Syria; for children in war-torn Ukraine living through a cold winter with the constant fear of shelling; for children who are alone on city streets or who have fallen victim to human trafficking; for children who cannot attend school; for children who are always hungry; for children with a parent in prison. May we keep them in our prayers and ask St. Gabriel to intercede for them. May we ask God to lead us into ways in which we can help meet their needs this Lent.