The Stations of the Cross are devotions prayed especially during Lent that recall Jesus' suffering and death on the cross. Traditionally, the Stations follow Jesus from the time he was condemned to death until he dies on the cross, is taken down, and buried. The Stations are depicted in paintings on the side walls of the church, but some are also illustrated at different places in the windows.
The first station, Jesus is Condemned to Death, was in the window posted for the Beginning of Lent. Six more stations are in the windows beside the Mary altar, which depict the Seven Sorrows of Mary. The window on the right includes some of the Stations.
The 2nd Station, Jesus Carries his Cross and the 4th Station, Jesus Meets His Sorrowful Mother
The top pane shows Mary meeting Jesus as He carries his cross. She is falling to her knees, although her posture also suggests movement as she is following her Son to Calvary. She looks up at him, her hands raised and folded in prayer and supplication, unable to change the reality of this situation, but still proclaiming her faith in God. Jesus looks down at her and their gazes meet in this moment of suffering. Surely they were not alone. Their gazes suggest the strength of their relationship and love.
The 11th Station, the Crucifixion, and the 12th Station, Jesus Dies on the Cross
The second pane is the Crucifixion. Mary and John are beneath the cross. John's hands are raised toward Jesus. Mary has one hand over her heart, often a symbol of prayer in Christian art, and one raised as if to touch her Son in his final agony and death. Jesus' right hand is extended in blessing with the first two fingers straightened and the fourth and fifth curled under. This image might remind us that the grace of salvation is there for us too, when we come to the foot of the cross in prayer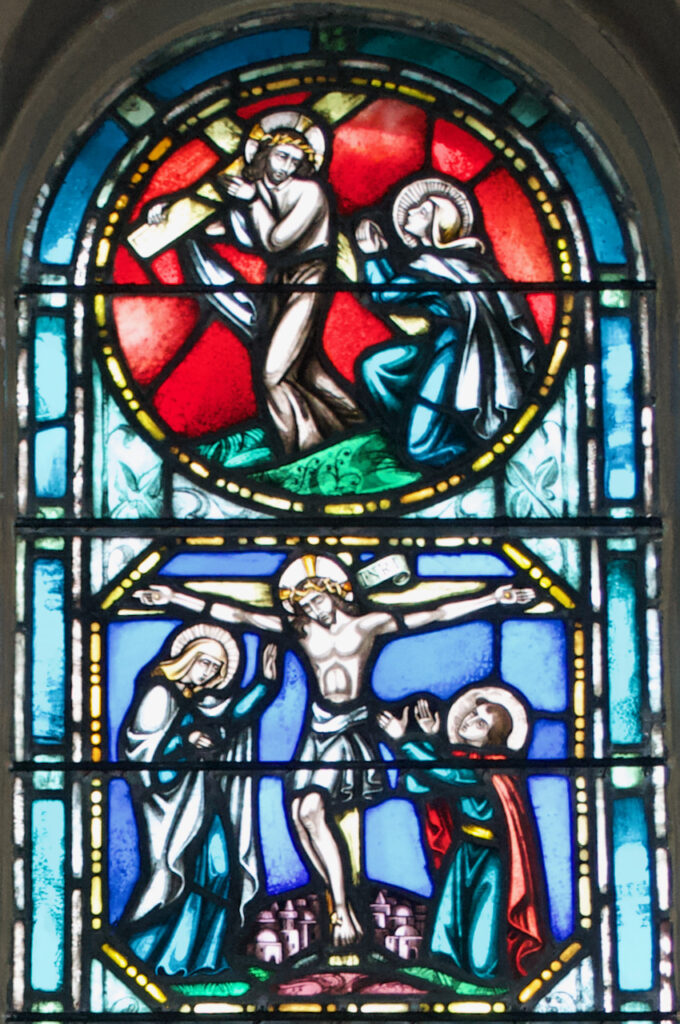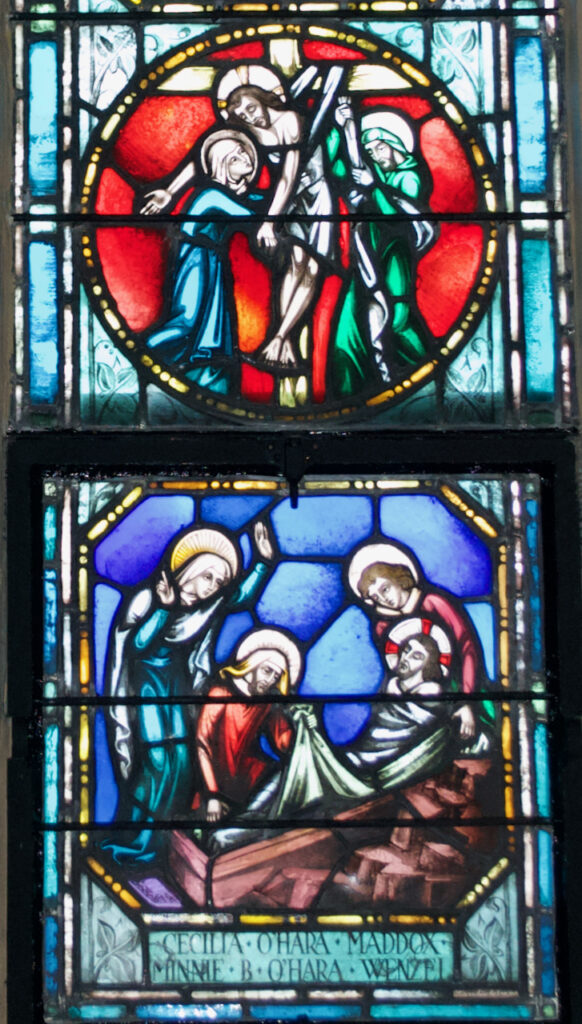 The 13th Station, Jesus is Taken Down From the Cross
The third pane is Jesus being taken down from the cross, lowered by Joseph of Arimathea into Mary's waiting arms. Jesus arms and hands are open around Mary, as if to embrace her, even in His death.
The 14th Station, Jesus is Laid in the Tomb
The final pane shows the burial of Jesus. Mary's left hand is positioned as it was at the Crucifixion, but Jesus is no longer there to touch. Her other hand is raised and has the index finger pointing upwards, perhaps indicating her faith in God in this hopeless moment and suggesting the Resurrection and Ascension that will come.
We don't know for sure what the artist meant to convey through the positions of the hands in the scenes. The symbolism can be personal to each person who looks on the artwork in prayer. As we reflect on Mary's faith and suffering during the Passion of her Son, may we too, turn to Jesus, knowing that He sees us and knows our every need. May we know that his suffering and death is our salvation, and be willing to receive it as it is given, like John with his open hands. And may we always believe in the Resurrection and witness it to those around us, like Mary at the burial of her Son